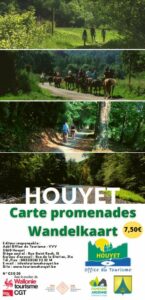 NEW MAP
Price of the map: 7,50€
NGI 1:25000
Free sheets with explanation only when you by the map at the reception desk.
Sending the map possible by paying 7,50€ on our account BE95 0682 0223 8458.
Other sales adresses:
Gas station at Celles
Auberge de la Lesse at Gendron-Celles
Le Fenil at Celles
Le Saint Hadelin at Celles
450 km hiking, cycling and mountianbiking trails. 63 signposted and loops from 4,4 to 14,2 km
and 2 mountain bike circuits from 18 & 31 km.
Celles:
– Promenade du Château de Vêves (Castle of Vêves) :6,5 km
– Promenade de Notre-Dame de Foy : 7,7 km
– Promenade de Notre-Dame de Foy (short): 6,8 km
– Promenade de l'Offensive des Ardennes : 4,6 km
– Promenade de la Sablière : 4,4 km
– Promenade de Payenne : 14,2 km
Ciergnon:
– Promenade de la Collyre: 9 km !! NOT PASSABLE DUE TO THE BROKEN BRIDGE IN VILLERS SUR LESSE !!
– Grande Promenade du Moulin de Wanlin (long) : 11,5 km
– Petite Promenade du Moulin de Wanlin (short) : 8,7 km
– Promenade de Fenffe : 6,7 km
– Promenade de la Chasse Royale : 11,2 km
Custinne :
– Promenade de Payenne : 14,2 km
– Promenade du Mauvais Mont : 6,1 km
– Promenade de la Tombe du Loup : 6,8 km
– Promenade de Ver : 11,6 km
Finnevaux :
– Promenade de Maisoncelle : 5,7km
Gendron-Celles:
– Promenade des Aiguilles de Chaleux : 8,7 km
– Promenade du Ri des Forges : 9,4 km
– Promenade des Grands Près : 5,3 km
– Promenade des Nutons : 5 km
– Promenade du Parc de Furfooz : 5,2 km
– Gendron-gare-Houyet, via de Lesse : 8,6 km
– Gendron-gare-Houyet, via het dorp : 5,1 km
– Promenade de Sovenne: 8,2 km
Gendron-Village (Gendron-Celles) :
– Promenade de Lavis : 5,5 km
– Promenade de Payenne : 14,2 km
– Promenade du Ri des Forges : 9,4 km
– Promenade de l'Iwoigne : 5,9 km
– Promenade de la Lesse : 8,8 km
– Houyet-Gendron gare via Gendron-village : 5,1 km
– Gendron gare – Houyet via Gendron-village : 5,1 km
Hour:
– Promenade du Bois du Roi : 12,9 km
– Chemin de la Reine : 8 km
– Chemin de la Reine (short) : 5,3 km
– Chemin du point de vue sur Lissoir : 11,6 km
Houyet:
– Promenade de la Famenne : 13,8 km
– Promenade du Bois du Roi : 12,9 km
– Promenade de Ferage : 10,6 km
– Promenade du Fond d'Irou : 8,6 km
– Promenade du point de vue sur Lissoir : 11,6 km
– Promenade de la gare royale : 6 km
– Promenade de Ver : 11,6 km
– Du Parc d'Ardenne : 6,3 km
– Du Point de vue sur Houyet : 2,8 km
– Du Bois au Tchero : 4,5 km
– Houyet-Gendron gare, par la Lesse : 8,6 km
– Houyet-Gendron gare, par Gendron village : 5,1 km
Hulsonniaux:
– Promenade du Bois del Biche : 11,6 km
– Promenade de Walzin : 11,3 km
– Promenade du Ri de Vesse : 4,4 km
– Promenade du Ropy : 6 km
– Promenade des Grands Près : 5,3 km
Mesnil-Eglise :
– Promenade du Fond d'Irou: 8,6 km
– Promenade de Ferage : 10,6 km
– Promenade de la Famenne :13,8 km
Mesnil-Saint-Blaise:
– Sur les Plains : 10,5 km
– Promenade de Massembre : 5,6 km
Wanlin:
– Chemin des Croix : 8 km
– Promenade de la Collyre : 9 km
– Petite promenade du Moulin de Wanlin : 8,7 km
– Grande promenade du Moulin de Wanlin : 11,5 km
Ver :
– Promenade de Ver, 11,6 km
– Promenade du Fostia: 9 km